Introduction
The new release contains new features like an extra additional information section in the Jira collaboration view as well as some minor usability enhancements like the removal of the save confirm dialog and bug-fixing.
New Features
Additional Information
The major new feature this week is the section containing extra information for the selected issue. The extra info section contains information like the creator of the issue, the current assignee, when it was created and updated as well as some more information like priority, progress. etc.

The new section shows the information as read-only and cannot be edited.
Export session to CSV
There is import/export from CSV for the stories to be planned, but before this release there was no export to CSV from the session results. Now, there is a shortcut in the context menu of the refinement session that allows export to CSV of the planning session.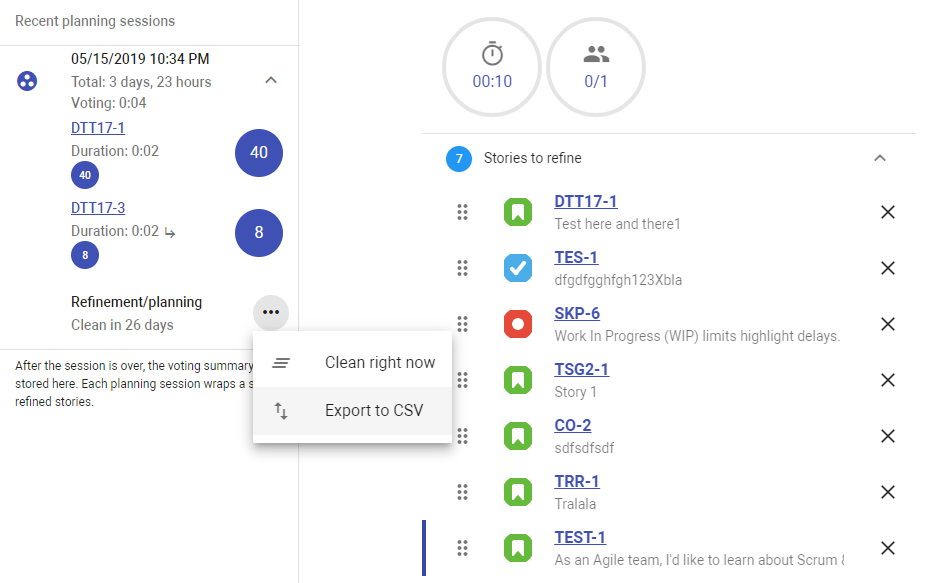 Collaboration view recognizes more styling
Now the collaboration view for Jira integration is able to display tables properly, as close to the Jira display as possible.

Usability Improvements
No edit confirmation
Before there was an annoying message box asking to confirm the change of story summary and description. Now updating the story is done silently and makes the user interface friendlier to the scrum master, especially when no Jira/GitHub or GitLab is used.
Bugfixing
Onine/offline message appears twice
Sometimes, when disconnected the offline message appeared twice. Same when disconnected for too long and reconnecting has failed (no internet, network or other reason) about the online message. Now the online/offline message is displayed only once.
UI glitch in CSV import
When importing CSV planned stories, there was an overlap to the copy-to-clipboard and close buttons of the CSV import dialog. Now this glitch is no longer viisble.
Happy voting!
All those nice features (and fixed bugs) have been completed thanks to our users – they have requested and we have implemented them. Please help Scrumpy Planning Poker become even more convenient for you by submitting a feature request/bug to our Feature Requests page or up-vote an existing feature that you find useful. Thank you!