Introduction
The new release contains only important new features like the Jira CLoud add-on configuration. No bugs have been reported and fixed.
New Features
A couple of new features have been implemented which also give the foundation to implement some of the most anticipated new functionalities in the upcoming weeks.
Support configuration to projects/boards in Jira
Now the Planning Poker link can be enabled/disabled per project and per user. Additionally the root Planning Poker link at the project's root dashboard can be also enabled/disabled.
This feature is particularly useful for bigger organizations which do not have all teams and members participating in the voting sessions. When the Planning Poker is disabled for certain users globally, they don't see the Planning Poker link at all. When the link is disabled for certain projects tat don't have tickets for estimation, the Planning Poker link is not visible for any Jira Cloud user.
Note: Please upgrade Scrumpy Planning Poker to version 1.0.5-AC.
To enable or disable the Planning Poker permissions globally, go to the Global Permissions in the Jira settings and configure the Allow Planning Poker permission (e.g. which users/groups/roles are allowed to use planning poker globally). By default, Planning Poker is enabled for any logged in user.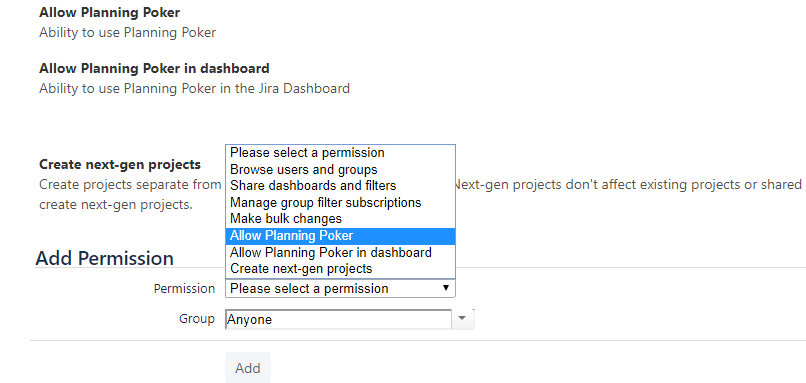 To enable or disable the Planning Poker permissions per project, go to the Project Permissions in the particular Jira project settings and configure the Allow Planning Poker permission.

Foundation for the future add-on configuration pages
In addition to the permissions control which is introduced in this release, future versions of Scrumpy Planning Poker for Jira Cloud will be fully configurable. The add-on now shows a Configure button that shows a configuration page with options that will be extended in the upcoming releases. Please submit new features or up-vote existing configuration features in our Feature Requests page.

When pressing on the Configure button, the Scrumpy Planning Poker configuration page is loaded.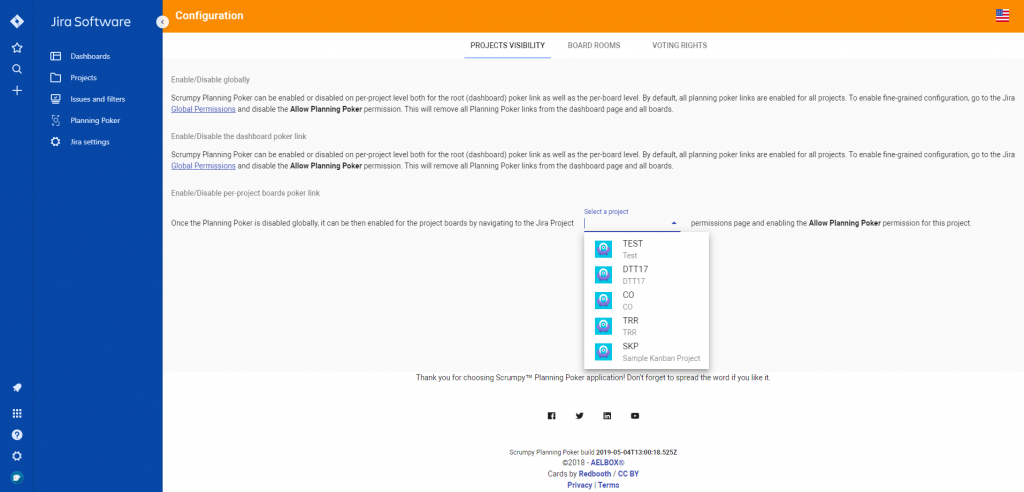 Include parent issue information
For the Jira integrations (Cloud, Server, API token integration), now the parent issue key and summary are shown just above the summary box for the issue in the details view.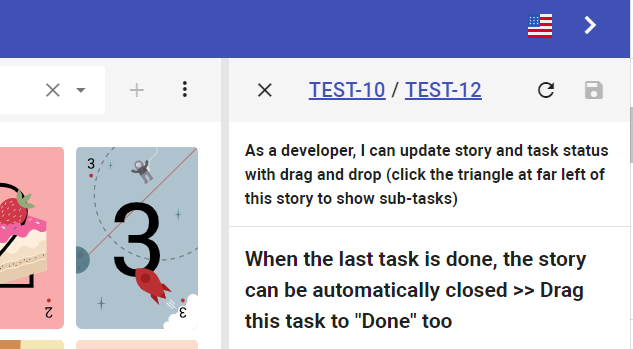 The parent issue is also shown in the list of planned stories.

Happy voting!
All those nice features (and fixed bugs) have been completed thanks to our users – they have requested and we have implemented them. Please help Scrumpy Planning Poker become even more convenient for you by submitting a feature request/bug to our Feature Requests page or up-vote an existing feature that you find useful. Thank you!